This page has been visited

times.

---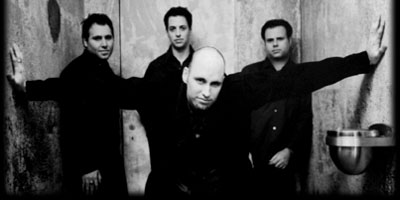 VERTICAL HORIZON 

 Keith Kane - vocals/guitar
 Sean Hurley - bass
 Matt Scannell - lead vocals/guitar
 Ed Toth - drums

 "I am everything you want. I am everything you need.....but
 I mean nothing to you and I don't know why." 

 After three successful independent releases, Vertical
 Horizon makes their major label debut with Everything You
 Want, a heady mix of melodic songwriting, strong
 musicianship, and passionate performances. "They're simple
 songs played with sincerity," says lead vocalist/guitarist
 Matt Scannell. "That's where the excitement comes from, not
 through adding more notes and overplaying."
 Vocalist/guitarist Keith Kane adds, "We try to put the focus
 on lyrics, melodies and chord progressions. We're not into
 huge productions, just real emotions, real situations." 

 Since forming in 1991, Vertical Horizon have worked on the
 road and in the studio to cultivate a grassroots fanbase and
 their work has paid off significantly. Before signing with
 RCA, the band sold an incredible 70,000 copies of their
 first three records, a task accomplished without any label
 assistance. At the root of this persistence and perseverance
 stand the band's two leaders, Matt Scannell and Keith Kane. 

 Scannell and Kane met as undergrads at Georgetown where Kane
 had a local Tuesday night gig. Scannell, a 'Matthew
 Sweet/Peter Gabriel fan who copped Eddie Van Halen licks on
 guitar' began sitting in and the two became a popular
 acoustic attraction as well as friends. "I loved electric
 guitar and playing in bands," says Scannell, "but it was
 just easier to walk into a club with only an acoustic guitar
 and land a gig." 

 During those acoustic gigs, the seed of Vertical Horizon
 began to grow. Kane and Scannell won audiences over with
 aggressive vocal harmonies and strong songwriting. After
 graduation in '92, the two went to Cape Cod to work odd jobs
 and make their first record. 

 Vertical Horizon's impassioned sounds and vibrant gigs were
 a refreshing change from the angst ridden early modern rock
 scene. As a result, their debut album, There and Back Again,
 enjoyed phenomenal success. What had started out as an
 initial run of 1,000, as 'something they'd have left over to
 give their grandkids,' became, with the help of non-stop
 touring, a debut disc that sold over 20,000 copies. -over-
 For their follow-up effort in 1995, Kane and Scannell
 brought on additional accompaniment. Carter Beauford from
 the Dave Matthews Band sat in on drums, members of
 Jackopierce lent a hand, and the band hired Doug Derryberry
 and John Alagia to co-produce. The album, Running On Ice,
 continued Vertical Horizon's commitment to honest,
 acoustic-based music, even as they expanded their sound. 

 After adding drummer Ed Toth and bassist Sean Hurley in
 1996, Vertical Horizon, as we know it today, was born. With
 the new line up in tow, the band stepped up its touring
 schedule, particularly on college campuses. "By spending so
 much time on the road, we've really built up a loyal
 grassroots following," admits Hurley. "And not only has it
 kept us in touch with our fans, it's also really helped us
 develop as a band, even if it means being away from home. " 

 In 1997, they released Live Stages, an aptly titled set
 recorded over two wild nights at Ziggy's in Winston-Salem,
 North Carolina. "The live record was a turning point for
 us," says Scannell. "There was a lot of development, a lot
 of growth in a very short period of time and I think it
 really shows on that album." 

 But despite its past successes, nothing will quite prepare
 the listener for the triumph that is Everything You Want.
 Produced by Ben Grosse (Republica, Filter, Barenaked Ladies)
 and Mark Endert (Fiona Apple, Madonna, Shawn Colvin) songs
 like the opening, anthemic "We Are," the scratchy electric
 "Finding Me," and the visceral "You Say," are crammed with
 nuance and energy that take the band beyond its acoustic
 roots. Elsewhere, the melancholy strum of "Best I Ever Had
 (Grey Sky Morning)," the acoustic intro to the dramatic
 closer "Shackled," and the dark, imploring "Give You Back"
 retain the kind of vibe that helped Vertical Horizon earn
 its audience in the first place. 

 Everything You Want leans into its songs with more
 electricity, louder guitars and more galvanic performances.
 "I realized that I wanted to hear a lot of noise," says
 Kane, who stood at the core of the band's acoustic
 foundation. "After six or seven years of touring, toughing
 out relationships, struggling, you begin to feel a little
 more realistic about life. That realism, that anger, sounded
 really good on electric guitar." 

 "Right now, we're about a lot of things," says Toth. "This
 album is a huge step forward and our scope is widening every
 day. If we allow ourselves to keep moving forward, we'll be
 able to cover a lot of ground and have fun doing it."